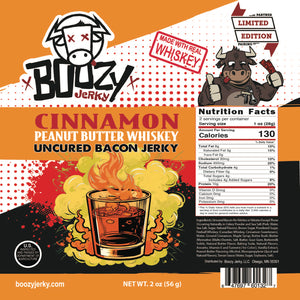 LIMITED EDITION FLAVOR
Guaranteed to be the most unique jerky you ever try!
Starting with full strips of juicy bacon, combined with Made with peanut butter extract & cinnamon whiskey, finished with a dusting of cinnamon, this is a sweet lover's dream.  It's like candied bacon but even more addictive.
Non peanut allergen- enjoy with full confidence 
2oz of meaty bacony